Skip to Content
Skip to Navigation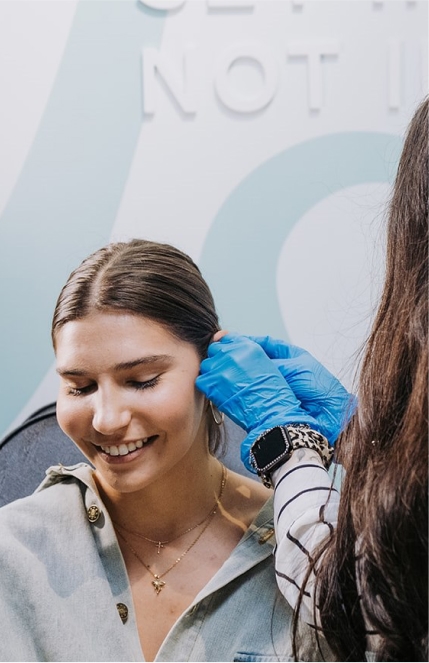 PIERCING APPRENTICE PROGRAM
Our Piercing Apprentices need you!
GET PIERCED & SUPPORT OUR APPRENTICES
Banter Piercing Apprentices are training in hollow-needle body piercing and need your help as they fine-tune their skills!

Your Apprentice Piercing Appointment includes a discounted $10 needle piercing fee* (combinable with any eligible body jewelry promotions). So, save on a whole new look while helping our Piercing Apprentices get real-life experience as they complete their education!
ABOUT THE PROGRAM
The Banter Piercing Apprentice Program is an intensive training course in which our apprentices master a broad range of skills to become an experienced needle piercer, including:
workplace safety practices and sterilization.
anatomy and jewelry specialization.
service skills and piercing techniques.
First Aid/CPR Certification and a bloodborne pathogens course.
WHAT TO EXPECT
Apprentice piercing appointments include a discounted $10 needle piercing fee*, combinable with any eligible promotions on jewelry.
Apprentice piercing appointments may run longer than the allotted 30-minute appointment to allow for training and observation.
Your apprentice piercing appointment may require close observation by multiple team members for training purposes.
All apprentice piercings will be overseen by a Certified Piercing Professional to ensure safety and accuracy.
Piercing services may vary by location and date, depending on availability. We recommend booking in advance to ensure times and services are available for your desired location.
GET YOUR PIERCING AT:
BOOK NOW
Laurel Mall
106 Laurel Mall Rd K3
Hazleton, PA 18202
610 258-6977
Palmer Park Mall
2455 Park Avenue K3
Easton, PA 18045
610 258-6977
Philadelphia Premium Outlets
18 West Lightcap Rd 747
Limerick, PA 19464
484 925-1949
Viewmont Mall
100 Scranton-Carbondal Hwy K11
Scranton, PA 18508
570 963-9369
Lehigh Valley Mall
261 Lehigh Valley Mall 2046
Whitehall, PA 18052
610 266-5801
Parks Mall at Arlington
3811 South Cooper St 1036
Arlington, TX 76015
682 282-7268
Galleria Dallas
13350 Dallas Parkway 2445
Dallas, TX 75240
214 945-1649
FREQUENTLY ASKED QUESTIONS
Apprentice piercing appointments are available for ages 18+.
Before piercing, apprentices must complete comprehensive training in cross-contamination prevention, bloodborne pathogens, First Aid and CPR Certification, sterilization of tools and equipment, piercing application, anatomy for piercing, and more.
Check in with us any time for a complimentary follow-up visit. From aftercare tips to jewelry changes, our Piercing Professionals are here for you.